Notes:
Before rewiring any ceiling fan. Turn off electrical current at source by turning off circuit breakers
Failure to disconnect power to the ceiling fan may cause electrical shock, fire hazard, serious injury, or death
Do not cut wires, multi-strand wires are solid and soldered together so they can be attached to the switch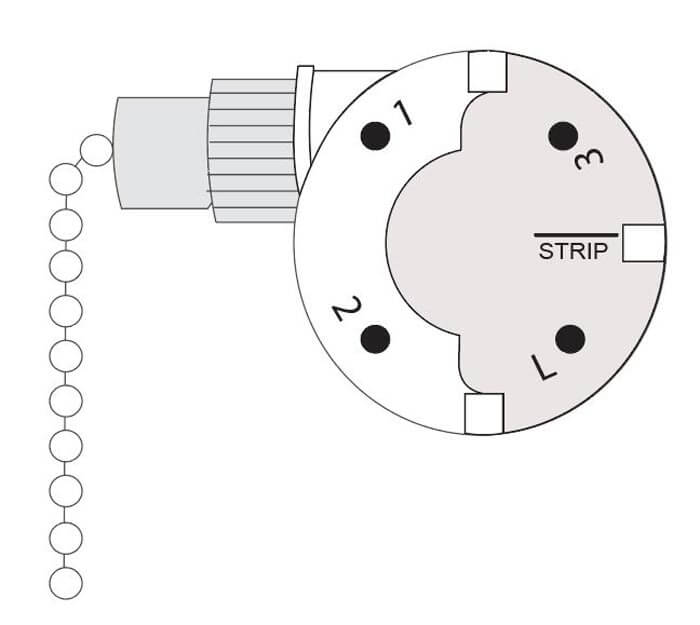 Steps:
Write down the color of each wire and the portal number to which they are attached on the switch.
Remove wires from existing fan switch. If wires are hard to remove, insert a paper clip or a large sewing needle into each hole (numbered 1, 2, 3, L) and pull the wire out (repeat this step for each wire)
Insert wires into the new switch as in the previous switch (see step 1)
Connect power to the ceiling fan and test the new switch
Color Codes For Ceiling Fans (Your Fan Wires Color & Position May Vary)
Harbor Breeze ceiling fan: L=Black, 2=Brown, 1=Grey, 3=Purple
Hampton Bay ceiling fan: L=Black, 2=Brown, 1=Purple, 3=Grey
Hampton Bay ceiling fan – Alternate colors: L=Black, 2=Purple, 1=Red, 3=Yellow
Hunter ceiling fan: L=Black, 2=Brown, 1=Grey, 3=Green
Switch Wiring Based on Capacitor Connection (Your Capacitor configuration May Vary)
The capacitor may have 4-5 wires with 2 or 3 μF readings such as CBB61, or 3 wires (different in color). The capacitor usually has 2 wires on one end: 2 blacks, 2 greys, or 2 yellows. One of these wires is connected to terminal "1" on the switch
L= Black
2= Larger/higher reading from the capacitor
1= Common from the capacitor
3= Smaller/lower reading from the capacitor
Zing Ear ZE-268s6 (3-speed fan switch) can be used to replace ZE-268s5 and ZE-208s5-1T (4-speed fan switch); however, the ceiling fan will no longer support 4 speeds as ZE-268s6 supports 3 speeds only.
Note: On ZE-268s5 or ZE-208s5-1T, begin from terminal number "L" and go around counterclockwise

 Switch model
 ZE-268s5 or ZE-208s5-1T
 ZE-268s6
 Wiring  color
L=Black
L=Black
1=Grey
1=Grey
 2=Green
Do not use
 3=Brown
2=Brown
 4=Purple
3=Purple
 Switch model
 ZE-268s5 or ZE-208s5-1T
 ZE-268s6
Wiring color
L=Black
L=Black
1=Grey
1=Grey
 2=Brown
Do not use
 3=Purple
2=Purple
 4=Green
3=Green
Useful Links: