Turn off electrical current at source by turning off circuit breakers
Do not cut wires, multi-strand wires are solid and soldered together so they can be attached to the switch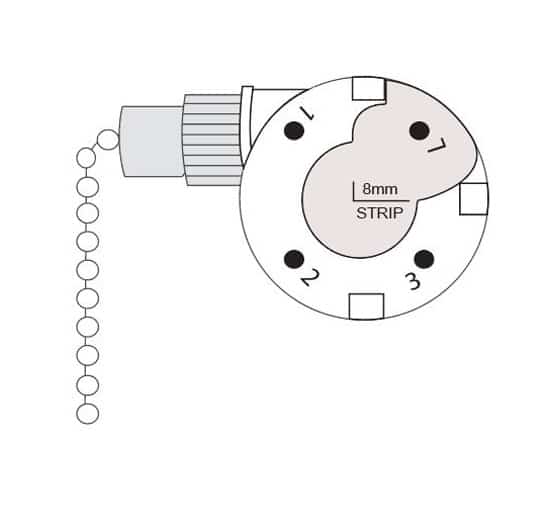 Steps:
Note the color of each wire and the terminal number to which they are connected
Remove wires from the old switch
Make sure that the wire lead length is the same length as the line beside word "STRIP"
Insert wires into the new switch as in the previous switch (see step 1)
Wires should be inserted into the slots on side of the switch not the holes on surface.
Color Codes For Ceiling Fans (Your Fan Wires Color & Position May Vary)
Aloha Breeze ceiling fan: L=Orange, 1=Yellow, 2=Purple, 3=Black (power)
Hampton Bay ceiling fan: L=Yellow, 1=Gray, 2=Brown, 3=Black (power)
L=Red, 1=Black (connected to capacitor), 2=Blue, 3=Black (power)
L=Purple, 3=Black (power), 2=Brown, 1=Gray
L=Purple, 3=Black (power), 2=White, 1=Gray
Switch Wiring Based on Capacitor Connection (Your Capacitor configuration May Vary)
The capacitor has three wires with two μF readings. The two wires on one end of the capacitor are attached to terminal 1, and 2 on the switch.
L= Attach to reverse switch
3= Black wire (Power)
2= Larger/higher reading from the capacitor
1= Smaller/lower reading from the capacitor
Useful Links: