Notes:
Before attempting to install this switch, please turn off your circuit breaker4.
WARNING: Failing to disconnect power supply to ceiling fan may result in death or serious injury.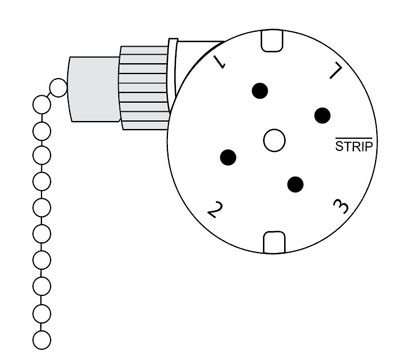 Steps:
Detach switch housing or light kit from the ceiling fan and unplug the kit wires.
Remove nut attached to the switch.
Lower the fan switch carefully from the fan.
Note and write down the color of each wire and the slot number to which they are attached to on the fan switch.
remove wires from the fan switch, if they are hard to remove, insert a paper clip into each hole (shown above in black dots) and pull out the wire.
Strip wires to make the leads the same length as the line above "STRIPE" word
Attached wires to the new fan switch as in the old switch (refer to step 4).
Pull each wire carefully to make sure it has been attached properly if the wire comes out then reinsert it correctly.
Attached the new switch to fan and secure it using the nut.
Rewire fan light kit and attach it to the fan.
Turn on the circuit breaker to test the new fan switch.
Useful Links: